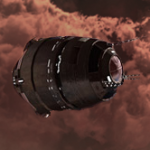 Every new expansion usually brings alot of new content. CCP lets players use EVE API to access the servers for information, but to make full use of it, sometimes you need more data: item types, descriptions, maps or ship images. This data is called "Static data dump" and is usually released by CCP a few days after the patch was deployed to Tranquility.
Official data dump
You can download the official SQL Server data dump directly from EVE Online website.
Static data consists of several files: one is the database dump in SQL Server backup format. The other files are packages with images and icons.
My conversions
Download MySQL and sqlite conversions of the official EVE Online data dumps.
Cutting edge data dumps
Please feel free to download an SQLite of cutting-edge version of EVE Static Data Dump. While this dump has a much smaller schema compared to the original CCP Data Dump, it contains all the invTypes and dgmtypeattributes from the new expansion.
The current cutting edge data dump originates from Rubicon running on Singularity.
Other player-made conversions
A player named Jercy Fravowitz is usually providing the most useful MySQL conversion (download here), which can be directly imported to a new or exisitng MySQL database. This format is the best choice for PHP based websites. For standalone programs the preferred format is probably SQLite.
Another player Chruker, maintains a website with similar conversions.