Hi Spacefriends!
First of all, thank you for continued support and all your e-mails and EVE mails. I was surprised that so many people still use LMeve! I can't simply ignore so many kind words and encouragement. Thank you for that!
I'm proud to announce that despite limited free time, I've finally managed to restore the core functionality of LMeve: Industry Tracking.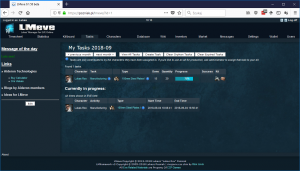 User Story
You might wonder why it took so much time to restore any functionality, so here's the story. When XML API cutover was announced, I realized I have to modify the backend of LMeve: the engine that handles API and feeds LMeve with data. But the old backend was written in plain procedural PHP. It was spaghetti-quality code, that was hard to modify and maintain, and even the simplest modification had to be done in multiple places in code. So I decided I have to rewrite it from scratch, this time as well as best as I could, so the new code would be easier to maintain once it's done. The new ESI backend is written in objective PHP, with two main template classes and several inherited classes. The main one is ESI class and it represents the API itself. It allows access to routes, handles refresh and bearer tokens and all the necessary operations such as token renewal. You can easily access any route using simple but powerful instantiation: $ESI->Characters->getCharacterName($characterID) for example will provide a toon name when provided with character ID. Very easy to use, right? Each route inherits the Route base class, which handles the low level network communication, reporting and error handling. It also supports paginated output on ESI routes using the X-Pages header.
Moreover, this class can be used not just in the backend of LMeve, but in the GUI as well. It can be used to fetch data from ESI directly. Other apps such as my Annual Stats can (and actually already do) use it. This is why it was worth to take the rewrite-from-scratch approach, even if it took more time!
How to upgrade
Right now simply download the new PHP code and overwrite your current installation. Don't worry about the database tables, because DB will be updated automatically the first time you log in.
Second step is to enable the EVE SSO using this helpful wiki guide: Integrating LMeve with EVE SSO .
Then go to Settings and make sure Enable ESI Poller is checked.
Last but not least, head to Settings -> ESI API tokens and create New ESI token. Please mind you must have a Director role to do this.
What works, what does not
Please remember this newest version is still a beta. Logging is heavy, so you might want to rotate your logs more often.
What works:
ESI integration and token management
ESI status checking and alerting in case of failure
Corp Member information
Industry Tracking and Tasks Tracking
Roadmap for the next releases:
Market prices
Assets
Wallet
Contracts
Killboard
I will release one feature at a time, using Agile approach.
What can You do to help?
I would like to ask You for some support. How can You help?
Use and test the new LMeve version. Bug report on the project's Github page (please check the list of features that currently work and which don't before you report)
Need a new alt for Industry? Use my buddy invite to register. You will get an extra 250.000 SP on your new character as a bonus.
Wanna send a tip? I could always use some extra buck! Here's my PayPal donation page. It will also be easier to convince my better half that I need to spend some time on a freeware app for video games 🙂 just sayin'

Thanks! Your help and support is always welcome and appreciated!
Special thanks goes to: Random McNally, Rixx Javix, Ramdar Chinken, Marq Aideron and Starfire Dai.