With the Alliance Tournament X now behind us, we have winners, we have runner-ups, and we have CCP preparing another installment of Inferno. Yup, the art departament is still working to improve the most important part of EVE: the spaceships.
First off: Eyecandy
This time tha Art Department has redone some of the most beautiful vessels in New Eden: Angel Cartel ships. To the contrary of what people say, they now look a bit brighter than the existing skins. The amount of detail resembles that of V3 Serpentis and Federation Navy. The only thing I dislike so far is the light shafts: in vacuum there should be no light shafts, because there is no atmosphere that could scatter the light. To art departament's defense however: it does look cool. It is just completely unrealistic. As usual, it will be best if you have a look yourself (video on youtube)
Angel pirate faction has a few more non-flyable ships, and they have received the V3 facelift as well. If you are interested, this post unveils some of their mystery: Mysteries of New Eden pirate ships.
Inferno 1.2 is not just visuals; there is much more to be had
Ship balancing
So far it's been unclear which parts of this dev-blog will make to Inferno 1.2 release, but the Inferno feature page mentions mining barges and attack frigates. On a side note, I would not call Procurer's EHP boost to battlecruiser battleship levels "Minor". Mining Barge rebalance will make ganking a tiny bit harder (but increased sig radius will make them easier to hit with big guns -> Tier 3 BCs FTW), while improved cargoholds on Retriever and Mackinaw will likely make them preferable to Hulks, which are going to remain top-of-the-line state-of-the-art king of the hill. Or rather king of the rocks. Or space debris. Whatever. The official dev-blog regarding Mining Barges is now available here.
All Barges and Exhumers get a EHP boost (Hulk and Covetor – smallest, Skiff and Procurer – largest)
All Barges and Exhumers have their cargohold reduced and get an Ore Hold instead
All Barges and Exhumers have their signature radius increased to BC levels.
All Barges and Exhumers need much more components to manufacture.


WARNING

– possible mineral multiplication exploit!

 

UPDATE: Exploit has been made void by CCP by adding the new additional minerals as Extra Materials
All Exhumers have their 7,5% shield resist bonus reduced to 5% per level of Mining Barge skill
All Exhumers (including Skiff) get 50 m3 of Drone Bay and 50 Mbit of Drone Bandwidth
Procurer gets a 15k m3 Ore Hold, and 5% per level to shield HP
Skiff trades it's Mercoxit harvesting and +2 Warp Strength boni for a substantial EHP boost
Retriever gets a 20k m3 Ore Hold (and 5% more per Mining Barges level) and +1 low slot
Mackinaw loses it's ice harvesting bonus for a 25k m3 Ore Hold (and 5% per Mining Barges level) and +1 low slot
Covetor gets 4% mining yield and 3% Ice Harvester duration reduction per Mining Barge skill level
Hulk gets 3% mining yield and 5% to shield resist per Mining Barge level, and an additional 3% mining yield and 4% Ice Harvester duration reduction per Exhumer skill level
New mining rigs for Ice and Mercoxit harvesting (only one can be fitted at a time)
Rookie ships get various bonus to combat and ewar (10% to 30%), but still lower than Tech I frigates – dev post on forums
Rookie ships get a EHP boost, more low and med slots
Executioner, Atron, Slasher and Condor have been rebalanced – dev post on forums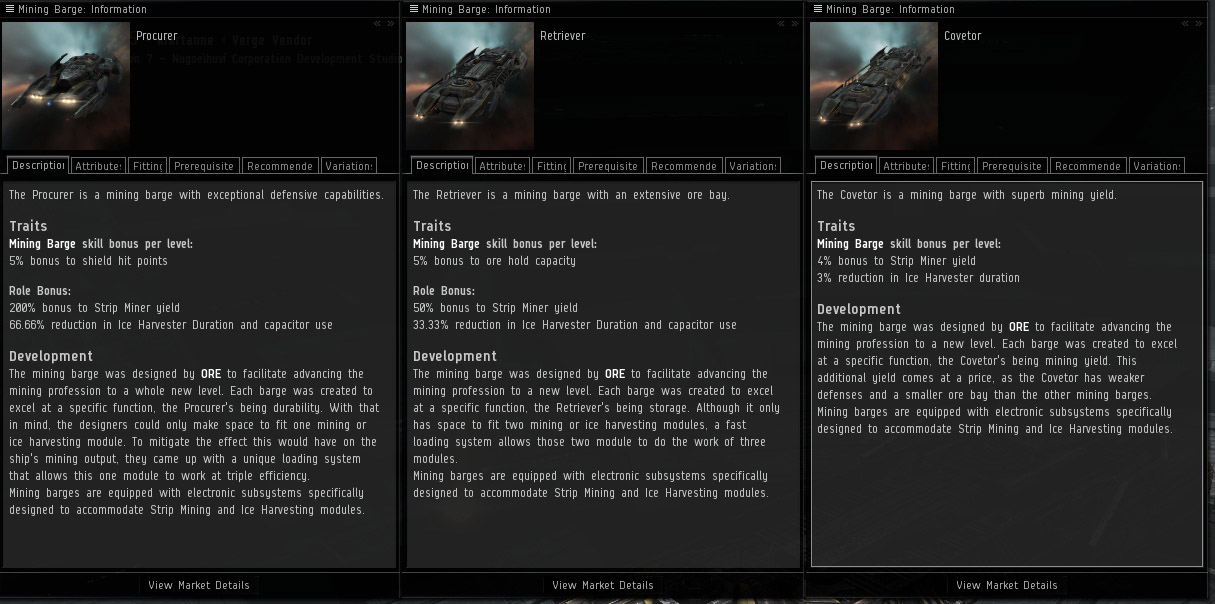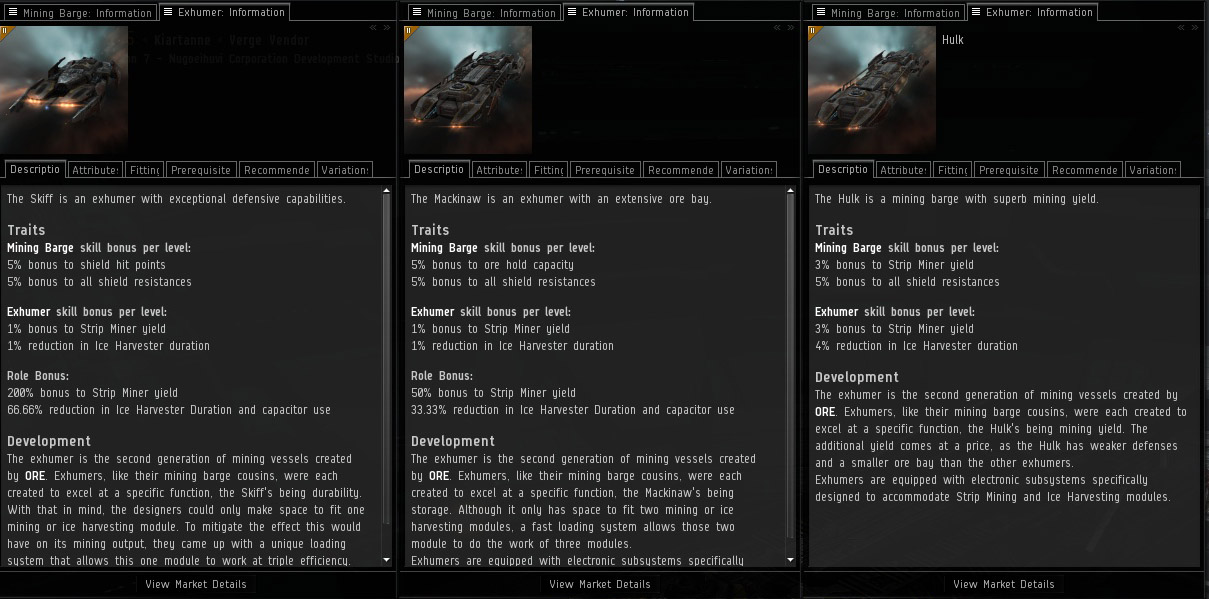 * * *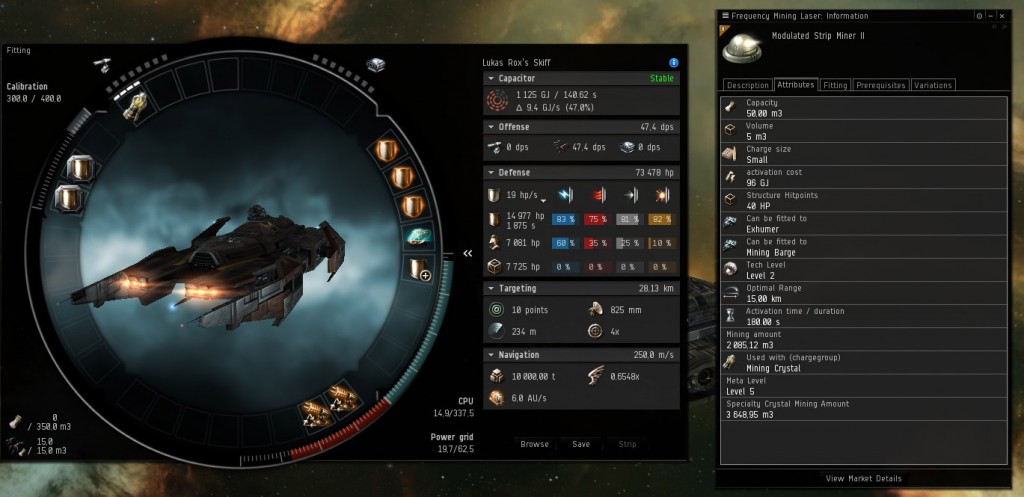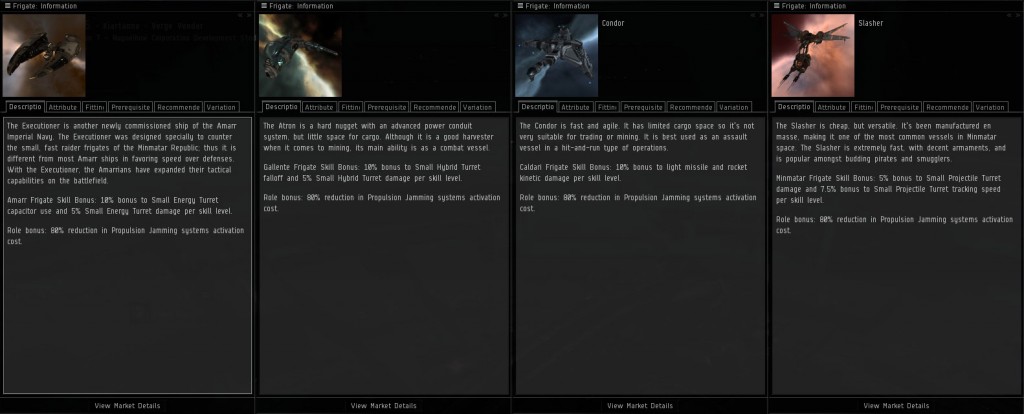 Source: https://forums.eveonline.com/default.aspx?g=posts&m=1685237#post1685237 Please mind this is raw static data mined from test EVE Online client. Stats might change before they are deployed on Tranquility. If and when they do, I will update this post.
Update: Technetium balancing
New Alchemy reactions, that allow bypassing Technetium with other moon minerals.  I'd never knew I'm going to say this, but well… THANKS, MITTENS. And a "Good Job!" badge goes to CCP Fozzie for tackling a problem long overdue.

CCP Fozzie has posted an update to the initial plan (ratio change from 20:1  mentioned in the dev-blog to 10:1) – see this forum post.
More naming changes
This time it will touch (change) the F.O.F. missiles. Some implant descriptions will also be re-formatted to be in line with other implants. For details – see this dev blog
New player experience
The tutorial instructions are now more intuitive, more informative and make EVE easier to grasp for new players. If pretty labels are to make EVE more readable, then so be it.
Complete dev blog about the new player experience is available here.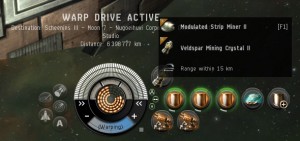 Update: Incursion changes
According to a forum post by CCP Affinity, Override Transfer Array sites will be made a bit easier.
Update: Module changes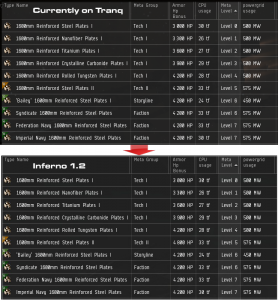 Reinforced Steel Plates II armor plates will finally have more HP than Reinforced Rolled Tungsten Plates I (Meta 4) (see screenshot). Unfortunately, Faction versions remain unchanged – their fitting requirements are greater than Meta 4, but the amount of HP is the same.
Update: Fittings now save ammo and fit rigs
According to a dev-blog by CCP Punkturis, saved fittings will finally fit rigs as well as modules (which they saved but did not fit, even if these rigs were available in the hangar). More than that, fitting will now save ammo, so younger pilots will know exactly what to take with them for a roam.