A while ago CCP has switched from regular huge updates  into a more agile development cycle, making the releases smaller (and supposedly, more polished). A crowd-sourcing poll was run, and the results are now being implemented one by one. This initiative has been dubbed the "little things" – small improvements, which make the game easier and more usable. There were a few dev-blogs about this, most notably Little things are still little and recent LittleThings4Lyfe.
Most players actually enjoy the improvements, as some GUI elements were really too complex (or too cumbersome in some instances), and needed improvement. Things already implemented include:
Remote jump clone removal
Drag and drop on container to move items into it
Deadspace, faction, officer, and storyline items now have an overlay icon like the Tech II and III items.
Probes can now be added to the overview.
Players with Starbase Defense Operator roles will now receive notifications about control towers under attack.
You can now rename ships in your hangar without making them active.
Little things initiatives continue, and the coming Incursion 1.5 update (to be deployed tomorrow, 19th of May 2011; remember to set long skill) will bring some good changes:
BPO and BPC finally receive different icons, in order to make them visually different. Copies will now have lighter icons.
On-board scanner (the one which can be used to probe for anomalies) range have been increased from 5AU to 64AU. Cycle time was reduced from 30 seconds to just 10.
single history tab in the fleet finder
show info page won't show another players standing to all agents and corporations; from now on, it will only display standings relevant to player who clicked the show info.
When starting a manufacturing job without all the ingredients, it will now be possible to add (buy, move, etc.) the materials to input location (such as a hangar) without the need to restart the whole job from scratch.
Ships with jump drives will not be able to use jump bridges with the exception of the Black Ops group.
Agent quality will be removed. All agents will have -20 in terms of accessibility and +20 in terms of rewards.
Agent divisions will be simplified:

| | |
| --- | --- |
| New Division | Old Divisions |
| Distribution (100% courier) | Accounting, Advisory, Archives, Distribution, Financial, Marketing, Personnel, Production, Public Relations, Storage |
| Mining (100% mining) | Astrosurveying, Manufacturing, Mining |
| Security (100% combat) | Administration, Command, Intelligence, Internal Security, Legal, Security, Surveillance |
| Research (100% research) | R&D (no change) |

Connection Skills will be updated as well, removed skills will yield free SP that can be applied to other skills (it will work the same way as in Learning Skills removal)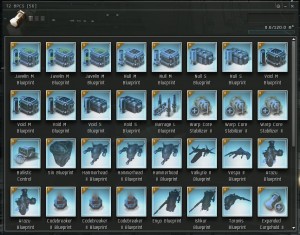 EDIT: The skillbooks for the new set of connection skills are reimbursed to your clone station – so you might not find it in your hangar.