A few hours ago CCP has published a dev-blog about ship balancing changes, which we have already heard before Inferno. TL; DR: all Tech I frigates are getting a specific combat role. This is a change from the tiered ship approach we've seen over the past years. Instead of putting ships in tiers, each better than the previous one, Tech I vessels will have specialized roles instead, much like their Tech II counterparts do.
Interception: Executioner, Condor, Atron, Slasher. Small, agile ships meant for stopping other ships dead in the water
Snipers: Navitas, Bantam, Burst The Navitas will become a drone boat. The Bantam will replace the Merlin as the railgun based sniper. The Burst will most likely become a mobile artillery platform, drone boat or a mix of above.
Missile lobbers: Inquisitor, Breacher, Kestrel, Tristan. Offer decent tank and speed.
Support exploration frigates: Magnate, Heron, Imicus, Probe. These ships will become even more specialized, with possible bonuses to mini-pofessions like hacking and archaeology.
EWAR disruption frigates: Crucifier, Griffin, Maulus, Vigil. Crucifier will be re-shaped to become a miniature Arbitrator. All ships will be specialized in EWAR and combat disruption.
Rookie ship boost: with the new looks, rookie ships will become very versatile ships, but not nearly as good as any Tech I frigate.
New ship! It's one of the things that always make me smile in EVE: new ships. Since Navitas and Bantam will no longer be mining frigates, ORE will introduce an ultra-mobile mining frigate for new miners as well as experienced ones, who are mining in a hostile environment.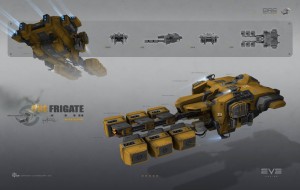 The new mining frigate does not have a name yet, but I'm sure CCP will come with something cool, like "Carebearmobile" or "Veldnaught" 😉 I personally vote for "Ius" -> see Ius Primae Noctis.
Barges will not have tiers anymore - instead, they will have a balance between EHP and mining output.
Procurer and Skiff will sport battleship-like EHP, but their mining output will be the lowest.
Retriever and Mackinaw will have less EHP than the above, but will mine more minerals in each cycle. They will also sport biggest cargoholds.
Hulk and Covetor will mine the most, but will have about as much EHP as they do right now, making them most vulnerable.
The EHP boost will also make my post about tanked barges void.
CCP has also mentioned that Barges are getting specialized cargoholds, similar to the ones on Rorqual and Orca.
All this will be coming to Tranquility in the 2012 Winter Expansion.