It seems a lot of people is displeased with the battery life of the new iPhone 4S. Unfortunately, the problem is not limited to the new iPhone users: other devices have been impacted by the problem as well. My iPhone 3GS with iOS5 is almost half discharged after a day on standby. I blamed it on the battery age at first, but many other people have started complaining about the same issue.
I did have a similar issue with my iPhone 3G at some point - when one of the processes kept running on the CPU. This issue looks similar, but is related to Location Services. In iOS5 Apple has divided System Services from other apps, and one of them seems to be the problem - the Setting Time Zone service. If you enable the Status Bar Icon, it will constantly show near the battery icon, meaning that something is using Location Services all the time. Disabling the Setting Time Zone service seems to fix the problem.
Hanged background process to blame?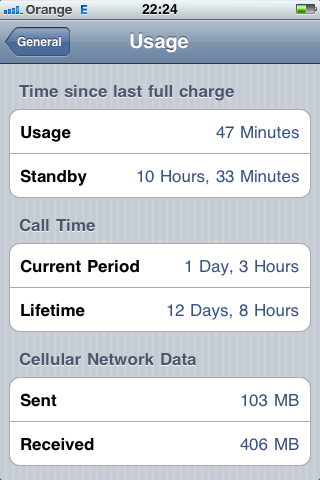 I become worried with the battery life of my iPhone over the past four days. Out of a sudden, the battery of my phone would become half-drained just after 12 hours of standby, which would indicate that the battery is dying and needs to be replaced. On the fourth day I did not connect the phone to the charger overnight, and the battery was drained completely by the following morning.
I have connected the phone to its charger and booted it. To my surprise battery life is now back to normal and the phone UI is not sluggish anymore. It seems, that there was some process running continuously in the background. iPhone 3G has no multitasking, so it had to be one of the native iOS background processes. I have not restarted nor completely discharged my phone for over half a year now, so the system uptime was quite long.
What does it mean for iPhone users?
Restart your phone now and then - memory leaks and bugs in the iOS might surface after extended uptime.
Model: iPhone 3G (2 gen.)
OS: iOS 4.2.1 (not jailbroken)