"EVE: Templar One" and 22 other items could not be purchased at this time. Please try again later.
If you own an iDevice running iOS 5 or 5.1 you might have seen this window when trying to update or download an app from the App Store: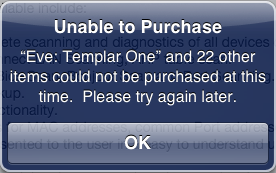 And if you've seen it, you've probably seen it more than once. So what does this error message really mean?
It means that you have a corrupted sqlite db file. Who would have thought? Unfortunately this is a known bug and has been happening to users all over the world. So far Apple did not fix the issue, but thanks to the internet, some clever folks have found & shared the solution on apple.com community forum.
EDIT:Apple has adressed this bug in IOS 5.1.1
If you are experiencing the problem above, just go to Settings -> General -> Software Update to update your device to iOS 5.1.1
If for whatever reason you can not/don't want to update your device, follow the tutorial below.
The tutorial is based on the forum info, but has some screenshots, which should make it even easier.
Pre-requisites
iOS version <= 5.1 (bug has been fixed by Apple in iOS 5.1.1 and above) - but jailbreak is not required!
The guide
1. Download iExplorer from their creator's website: http://www.macroplant.com/iexplorer/
2. Install iExplorer to your PC or Mac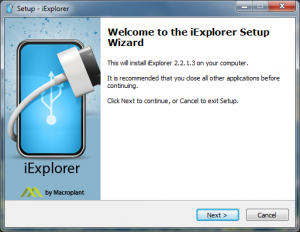 3. Run iExplorer
4. Connect your iPhone or iPod Touch or iPad to your computer
5. Close iTunes if it starts automatically
6. Click "Mount iDevice" in the iExplorer window. You should now see list of files in the sandbox part of the device storage: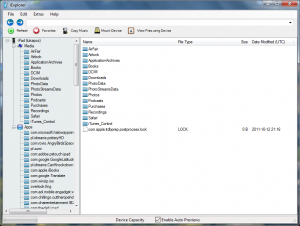 7. Browse to "Media" ->; "Downloads"
8. Find the file "downloads.*.sqlitedb"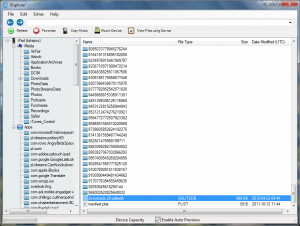 9. Delete the file mentioned in 8.
10. Close iExplorer
11. Disconnect the device
12. Press the top "On/off" button and keep it pressed until "Slide to power-off" appears. Once it does, move the slider.
13. Wait for the device to shut down
14. Press the "On/off" button and wait for the device to boot up.
Done! The bug should be gone.
.
Credits
Writing this guide was possible thanks to just_jeepin and ya1950 posts on Apple Support Communities forum.

The new expansion brought us Captains Quarters, Agent Finder and new turrets, but it has also brought quite a few bugs. This patch is supposed to fix most of them:
Overview brackets, and brackets in space, will no longer be missing the for battleships and capital ships.
The bracket around the CQ mirror will no longer be incorrectly visible when the camera is at certain angles.
Resolved light flickering problem on ATI CrossFire hardware.
Fixed shadow rendering in the New Character Creator.
Active boosters no longer prevent clone jumping.
Complete patchnotes are already available here.

Last weekend we had witnessed yet another alarm clock bug in IOS (All devices running 4.2.1 were affected). On 1st and 2nd of January, single non-repeated alarms did not sound, as a result many iPhone owners were late for work, school, date, etc. Similar problem was reported after daylight saving time change last autumn, but it affected only repeated alarm events.
There is no official statement from Apple yet, but rumours say there will be no patch for this bug, moreover the problem should correct itself on the 3rd of January.
EDIT: Both repeated and one time alarms already work fine on 3rd of January (iPhone 3G running iOS 4.2.1)
Note to self: buy a simple alarm clock, and never be surprised again.