Even before Crucible was released, players had been speculating, how the new expansion is going to affect suicide ganking. This is a form of PVP, which many players flying around high sec forget about. New players quickly learn, that CONCORD does not guarantee protection – it merely discourages PVP in high sec, but does not eliminate it. New players can read more about ganking and PVP here.
Let's have a look at two Crucible features, which affect this form of high-sec PVP:
SCC will not pay out insurance if ship was destroyed by CONCORD
Tier 3 battlecruisers, which feature unprecedented firepower at an affordable price
Insurance changes
The first feature on our list looks like a good thing for hi-sec dwellers, which is supposed to increase ganking cost. Does it really discourage gankers? Not at all. It only increases the break-even point, at which cost of the ship lost to CONCORD can be equalized by the loot from the ganked ship. So if you fly a deadspace/officer fitted Marauder class ship, you are still prone to being ganked. Same with goods-filled freighters and Orcas: as long as the value of your cargo is higher than half the total cost of ships required to destroy yours, pirates will consider you a valid target.
Of course piracy is not the only reason pilots gank each other, because some will do it for fun or any other reason that comes to their mind (boredom being also one of the possible reasons). "Never fly what you can't afford to lose" applies not only to null and low sec, but hi sec as well.
New battlecruisers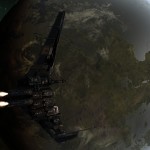 The new Tier-3 battlecruisers seem to be a perfect tool for gankers: they are cheap, huge damage ships, that easily take out ships many times their size. Due to extremely powerful alpha (above 9100 volley damage with Republic Fleet EMP rounds), Artillery fitted Tornadoes are the best ships for this job. They are basically oversized Thrashers, capable of delivering a devastating blow to any ship in range. Three arty Tornadoes can wipe out an officer-fitted Golem.
According to @CCP Diagoras, 705 tier-3 battlecruisers have been lost to CONCORD and sentries so far, of which 621 were Tornados.
Ganking is easier after Crucible
With the two changes in place I can't say high sec is a safer place, than it was pre-Crucible. It is the same, or even less safe now than it used to be. This of course is good for both the economy and to the game, so…
Fly safe!