This morning I was reading information about iOS 12 on the official polish Apple site.
To my surprise, I've noticed some EVE Online assets on an iPad in one of the photos. When I clicked on the photo, my jaw dropped so hard on the floor, I'm still looking for it.
Here's what I saw: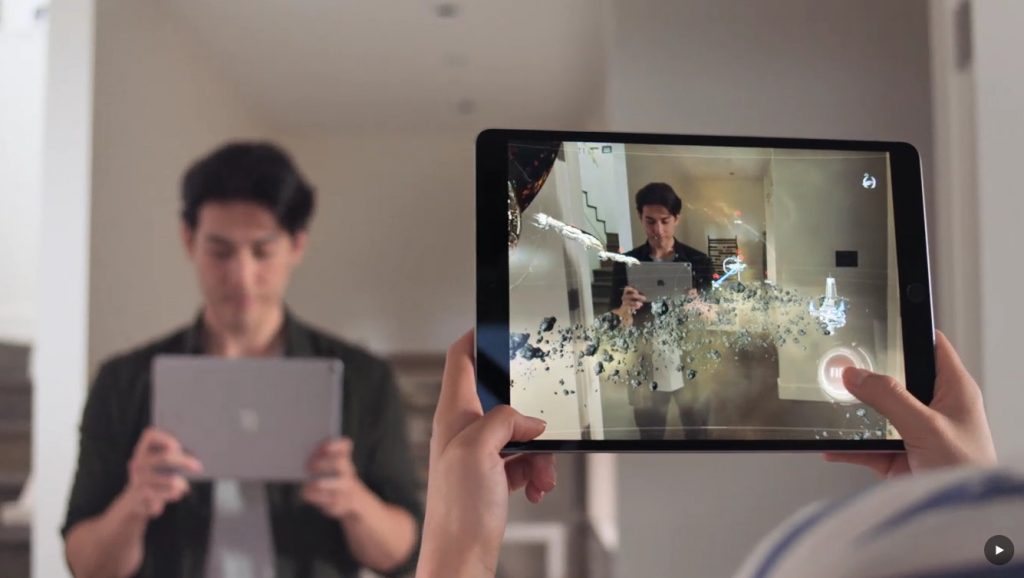 When I bought my first iPad in 2011, one of my dreams was to play EVE Online or at least a mobile game set in New Eden. Fast forward 7 years, I bought an Intel-based Windows 10 tablet, which can just play EVE Online (or any other PC game). But for Project Galaxy, I guess I should've chosen a new iPad Pro instead.
In June, at Apple's WWDC18 event, CCP Games and NetEase announced their coooperation in making a mobile game codenamed EVE: Project Galaxy. The game is scheduled to be released in 2019. It is said to be released for all major mobile platforms (so we can speculate iOS will not be the only one). Contrary to Project Aurora, which I have covered in this post about EVE: War of Ascension, Project Galaxy will be a scaled down version of EVE Online, with all core gameplay experiences like combat, mining, industrial manufacturing, trade and exploration. The game is also said to use the ARkit2.0 library, revealed by Apple at WWDC2018, which brings several new features to AR-enabled phones and tablets, such as persistent and multiuser virtual space which can now be shared across time and fixed to real-world locations, 3D object recognition, face tracking or scene reflection (ability to reflect real environment by virtual objects).
More information is in the official press release on ccpgames.com.
Ready to blow up some spaceships in your living room?
EVE Hype is real.
Apple spilled the beans! @CCPGames is making an iOS game for AR-kit called PROJECT GALAXY! I've noticed it on the polish IOS 12 description page: https://t.co/ehpCqTu5Zn I look and see EVE graphics on iPad and I'm like WTF?! #tweetfleet #eveonline #AR #iOS12 pic.twitter.com/qe6kYTz1z0

— Lukas Rox (@rox_lukas) October 3, 2018
Last summer I have written a big review of all EVE Online apps available for iOS and Android. The post has been very popular (it's in the top 3 every month), so I have decided to update it with new apps, which have arrived in App Store since the original post.
While I try to avoid the word "useless", the usefullness of some of these apps below is well... low. This doesn't mean however, that they can't potentially be useful for some players.
---
EPIc for EVE
Developer: Adolfo Adorni Price: 1,79 EUR
Description
EPIc for EVE Online is your Planetary Interaction Companion.
With EPIc you can browse Eve Planets and materials you can extract from or build on planets, set up your current warehouse of materials and set up the production goal and study you colony plant settings.
Using EPIc you can share your warehouse whit Eve mates and complete every build target easily!
Review
This is the only app for Planetary Interaction on iOS, it's also the most expensive one! Since CCP offers no API for PI, the app does not need a key.
Everything is set up in the app itself.
First, you need to input your PI related skills on the "Settings" tab - Interplanetary Consolidation and command Center Upgrades.
Secondly, switch to the "Planets" tab and set up your colonies. To do this, choose a planet type from the list, press the right arrow sign.
Set up colony name and add structures. You will have to enter details such as link lengths as well.
Based on what you have set up, app will determine what you're producing on the "Recap" screen. It will also let you to set up exportable and importable materials (if you have to move them between planets). IMHO the background on the Recap screen should be less transparent, because the bitmap with the Drakes makes it a bit difficult to read. Otherwise the UI is very clear and intuitive.
Last but not least, you can create a group with other players. Such group will be able to plan goals and import/export commodities between their planets.
---
EVEMine
Developer: Robert Bojor Price: FREE
Description
EVEMine will help EVE Online players, miners especially, to optimize their mining time and in the same time increase the ISK per hour ratio.
The Ore Mining tab will serve for when you're strip mining those pesky belts. Just input your Mining yeld, Cycle time, Lasers used, Asteroid type and quantity and hit Run Calculation.
The Ice Mining tab works a bit different. Input your Cargo space, Lasers used and Cycle time and it will notify you when your cargo is full. This way you can do your AFK jobs and not switch to the game constantly.
Review
Another really simple app, but can potentially be useful. If you are an Ice Miner and you are not afraid of gankers, this is the perfect timer app for Ice Mining. Simply warp to a belt, start mining and minimize EVE. The app will then sound an alarm when the cargo hold is full, so you know when to alt-tab back to EVE.
Unfortunately the app does not seem to be up-to-date with Mining Barge changes in Inferno 1.2.
---
EVE Carebear Central
Developer: bbb Price: 0,89 EUR
Description
* Fetching current Jita/Dodixie/Amarr/Oursulaert/Rens mineral/ice prices from server. - It is (buy+sell)/2 atm. Also you can see detailed buy/sell prices in Detail window via detail button.
* Calculating Ore/Ice values at Ore/Ice tab. Listing their refined minerals, also their ISK/volume values so you can see which ore to mine is best at current market prices.

* Character Tab: You can add your characters -click info button at bottom right for info- to see all their minerals worth with current selected data pull with their location. Also main character list shows current wallet + all mineral worth.
Review
The app is quite useful for Tech I manufacturers, because it allows a quick peek at the ice/mineral prices in all major trade hubs (using eve-central as its price source). Unfortunately entering API KEY is a bit complicated compared to other EVE Online apps. First, you need to enter your character name, so the app does a reverse characterID lookup (what for?), then you can copy and paste your API key from EVE Online website. Once you've done that, the app will pull the assets API feed and calculate the value of all minerals in posession of your character. It will also display the current amount of ISK in your wallet. The biggest disadvantage however is the fact that the app is a paid one (0,89 EUR or $0,99)
---
ISKies
Developer: Simeon Mitev Price: FREE
Description
This is the right tool for everyone who's playing EVE ONLINE and need to convert ETC60 into ISK or convert ISK into playing time.
Iskies will keep you informed about the actual average sell price and average buy price for a single ETC60 of Eve Timecode Bazaar, right on your iPhone.
If you want to convert ISK from within the game just setup your desired SELL price and Iskies will let you know when the right moment has come.
Using EPIc you can share your warehouse whit Eve mates and complete every build target easily!
Review
A very simple and straight-forward app. You can see the graph of the average price of 60-Day ETC on Timecode Bazaar (on EVE Online Forums). When you slide the first graph with sell prices, a second one with buy prices will appear. Again, EVE API isn't used here at all.
Help, my bookmarks are stuck!


The Apple Maps in iOS 6 is nothing. Give them enough time, and they will eventually catch up with reality (and maybe with Google at some point). I do have a rather serious issue with iCloud bookmarks sync, though. Since the release on 19th September, my Safari bookmarks have doubled first (breeding like rabbits!), then stopped syncing. Moreover, I am unable to delete them or add any new bookmarks (the Delete button accepts the tap, but then does exactly nothing). Switching iCloud sync for Safari on and off in Settings does nothing either. iCloud tabs keep working even though Safari has been disabled in iCloud options!
As a technical person I would not just sit and wait until someone else finds a solution: I've started digging myself. First thing I've checked was the Diagnostic Logs (Settings -> General -> About -> Diagnostic & Usage -> Diagnostic & Usage Data).
The culprit is a small lesser daemon
Bingo! This is what I've found:
It seems that a process called webbookmarksd is killed by the kernel every few minutes with SIGSEGV. I bet this is eating a lot of battery, because CPU is wasting its time trying to restart the daemon every time it fails (and then wasting even more battery writing the crashlogs).
The next logical step was visiting Apple Support website, specifically the FAQ about problems with bookmarks (TS4001). Unfortunately, after reading through the FAQ and doing all the steps mentioned there - I'm still stuck with the problem.
What now?
For the time being I have filed a bug report on Apple Developer website and wait for Apple response or a working untethered jailbreak for iOS 6, whichever comes first.
You can read more about the issue on Apple Community Support forum: https://discussions.apple.com/thread/4313906?start=0&tstart=0
Solution already exists, no jailbreaking required
As I have initially have guessed, the issue was caused by a broken bookmarks file. Other users who have encountered that problem were able to resolve it with the procedure in this thread: https://discussions.apple.com/thread/4333351?start=15&tstart=0.
I have followed the procedure from the thread and it worked - my iPad 2 works just like new, bookmarks are syncing fine and they are no longer stuck:
Disabled iCloud backup and did a standard backup to iTunes
Edited the backup with iBackupBot, replaced the broken bookmarks.db with one from this address: dropbox link
Restored the edited backup with iBackupBot
iPad did not reboot and it was stuck at recovery screen
I put the device into recovery mode again, by holding the power and home buttons. As soon as Apple logo appeared, I released only the power button.
"Connect to iTunes" logo appeared
I did a restore in iTunes now, usingthe same edited backup - it seems iBackupBot did something wrong.
iPad has restored successfully, duplicate bookmarks are gone, no more crashing webbookmarksd
Re-enabled iCloud backup and bookmarks sync
Remember, by following this procedure, you do so at your own risk!
PS. I did the iOS 6 update at the same time on both my iPad 2 and iPhone 3GS, which had iCloud sync working perfectly fine in iOS 5. iPhone 3GS was completely unaffected by this issue, even though the same set of bookmarks was used by both devices.


This post is a synergy of my interests. If you are a returning visitor, you have most likely noticed that I write not only about EVE Online, but also about all things mobile: tablet PCs, mobile operating systems and so on.
Smartphones have changed the mobile phone market forever: almost half of all the mobile phones nowadays are smartphones. With CCP giving the community an API to access the in-game information, it was just a matter of time until first EVE related third-party apps have arrived.
Most of the Apps available for the two biggest smartphone platforms, namely Android and iOS, can be divided into three large groups:
character tracker
market tracker
industry helper
Majority of these third-party apps are free, but some of them use ads and donations to cover developer's costs.
Unfortunately I neither own a Windows Phone 7 device, nor have a working emulator of it, so this review will not cover WP7 apps. Sorry!
It is also worth mentioning, that CCP has plans to deliver their own mobile applications for DUST 514 and EVE in the near future. Developers did not reveal any specifics besides Neocom app for DUST 514, which will run on PS Vita and will deliver almost full interaction with the game, except for the core FPS gameplay. Neocom for PS Vita is said to allow managing fittings, accessing market and so on.
Read more about CCP plans for mobile devices:
Since this post is rather long, please click "Continue reading" -->

Controlled gossip is one of the most powerful marketing tools ever created by a man. Why? Because most of the features of the new iOS 6, such as new maps, Siri on iPad and Facebook integration have been widely discussed over the past few weeks.
Of course nothing is set-in-stone until Apple officially unveils it during one of their famous Keynotes.
This year WWDC conference not only brought new MacBook Air and MacBook Pro (with Retina display, with nearly 3 times as many pixels as Full HD), but also confirmed most of the iOS gossip mentioned earlier:
New maps (with turn-by-turn navigation and introduce 3D fly-by view). Google maps are officially gone. In my opinion this was a premature step (of course justified from the lower 3rd party costs point-of-view). Google maps offer much more content than Apple's, with features such as Street View and new 3D maps, these are the most advanced maps publicly available in the world.
Facebook integration - works just like Twitter integration in iOS 5: sign in once, and use for all apps.
Siri comes to iPad (but to the new iPad only). The voice assistant has also become a bit smarter: now features more data sources (such as sports). You can also tell Siri to launch any app you have on your iDevice.
Cover flow comes to all three iTunes stores.
And now the features that were not known before Tim Cook's keynote:
Shared Photo Stream - share your photos with other iDevice users
Safari improvements - it is now possible to upload photos directly from Safari as you would do on a Mac or PC. iCloud tabs allow viewing websites already opened on other devices  such as Macs, iPads & iPhones. Full screen landscape mode for iPhone provides even more real estate on the iPhone screen.
Mail improvements - adding images to a message is now easier. VIP inbox will highlight messages from the most important people.
Phone app has received long awaited "Reject with a message". It is possible to "Reject + Remind to call back"
"Do not disturb" mode which can silence all notifications and calls in a specific timeframe (let's say 10pm to 7am). In this mode only people on the Favorites list will sound the ring. It is also possible to allow the second call - if someone calls twice in the "Do not disturb" mode, the second call will not be silenced.
Facetime is not tied to WiFi anymore and now works on 3G/LTE as well. Many people were complaining about this artificial limitation.
Passbook - the center for electronic tickets and passes. It is now possible to manage tickets and boarding passes from one place. QR Codes allow third party devices to scan tickets directly form the iPhone screen.
Accessibility improvements
In my eyes, iOS 6 is far from a breakthrough, but offers several features requested by the users and some cosmetic changes. The Apple policy of bringing new features, such as Siri to new models only might be justified by the revenue from selling new iPhones and iPads (and also allows to cut expenses on Siri cluster, because if too many users get access to Siri, they are more than likely to crash it), but makes no sense from end user point of view.
The exact release date has not been disclosed yet, but Apple says "iOS 6 is coming this fall", so we will see it sooner, than later.
You can now ask why the title of this post is "iOS 6 surprise". The answer is "Because iPhone 3GS is still supported, while original iPad is not". It is unusual for Apple to support a device for more than two generations of software. Both the original iPhone and iPhone 3G have only received two software updates, so did the original iPad. iPhone 3GS is still sold and supported, most likely to fill the gap for the budget smartphone; iPhones were always marketed as a high-end device. With Tim Cook at the helm this policy seems to change.
"EVE: Templar One" and 22 other items could not be purchased at this time. Please try again later.
If you own an iDevice running iOS 5 or 5.1 you might have seen this window when trying to update or download an app from the App Store: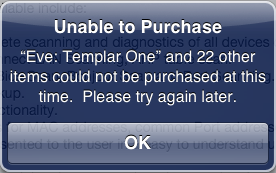 And if you've seen it, you've probably seen it more than once. So what does this error message really mean?
It means that you have a corrupted sqlite db file. Who would have thought? Unfortunately this is a known bug and has been happening to users all over the world. So far Apple did not fix the issue, but thanks to the internet, some clever folks have found & shared the solution on apple.com community forum.
EDIT:Apple has adressed this bug in IOS 5.1.1
If you are experiencing the problem above, just go to Settings -> General -> Software Update to update your device to iOS 5.1.1
If for whatever reason you can not/don't want to update your device, follow the tutorial below.
The tutorial is based on the forum info, but has some screenshots, which should make it even easier.
Pre-requisites
iOS version <= 5.1 (bug has been fixed by Apple in iOS 5.1.1 and above) - but jailbreak is not required!
The guide
1. Download iExplorer from their creator's website: http://www.macroplant.com/iexplorer/
2. Install iExplorer to your PC or Mac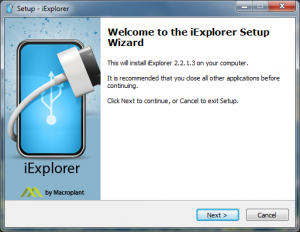 3. Run iExplorer
4. Connect your iPhone or iPod Touch or iPad to your computer
5. Close iTunes if it starts automatically
6. Click "Mount iDevice" in the iExplorer window. You should now see list of files in the sandbox part of the device storage: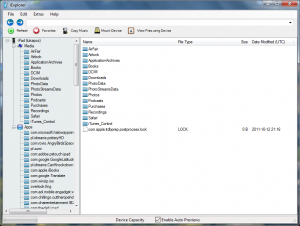 7. Browse to "Media" ->; "Downloads"
8. Find the file "downloads.*.sqlitedb"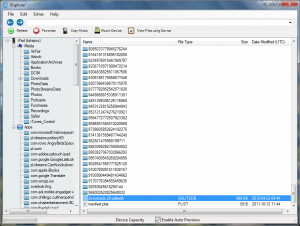 9. Delete the file mentioned in 8.
10. Close iExplorer
11. Disconnect the device
12. Press the top "On/off" button and keep it pressed until "Slide to power-off" appears. Once it does, move the slider.
13. Wait for the device to shut down
14. Press the "On/off" button and wait for the device to boot up.
Done! The bug should be gone.
.
Credits
Writing this guide was possible thanks to just_jeepin and ya1950 posts on Apple Support Communities forum.
When AirPrint was first introduced in iOS 4.2, I have spent some time trying to share my Windows printer to my iPad. Of course a free solution was already there, one that involved installing Apple Bonjour Service with CUPS Lite for Windows. So I've quickly found that solution on Google and downloaded the necessary tools, namely Bonjour Print Services for Windows and Airprint.zip, which contains the CUPS service.
Making it work was quite easy. You need to unzip the Airprint.zip file to C:\Program Files\AirPrint (on a 32-bit Windows), or to C:\Program Files (x86)\Airprint on 64-bit Windows.
The next step is registering the service: log in as a user with admin rights, click "Start", "Run", enter "cmd" and press "OK".
In the console, enter the following commands:
sc.exe create AirPrint binPath= "C:\Program Files\AirPrint\airprint.exe -s" depend= "Bonjour Service" start= auto




sc.exe start AirPrint
IMPORTANT: If you use 64-bit Windows, use the appropriate Program Files (x86) directory instead.
It worked! ...until iOS 5. So I've run the Wireshark to see if Apple changed anything to the AirPrint protocol. It was not a surprise that they did: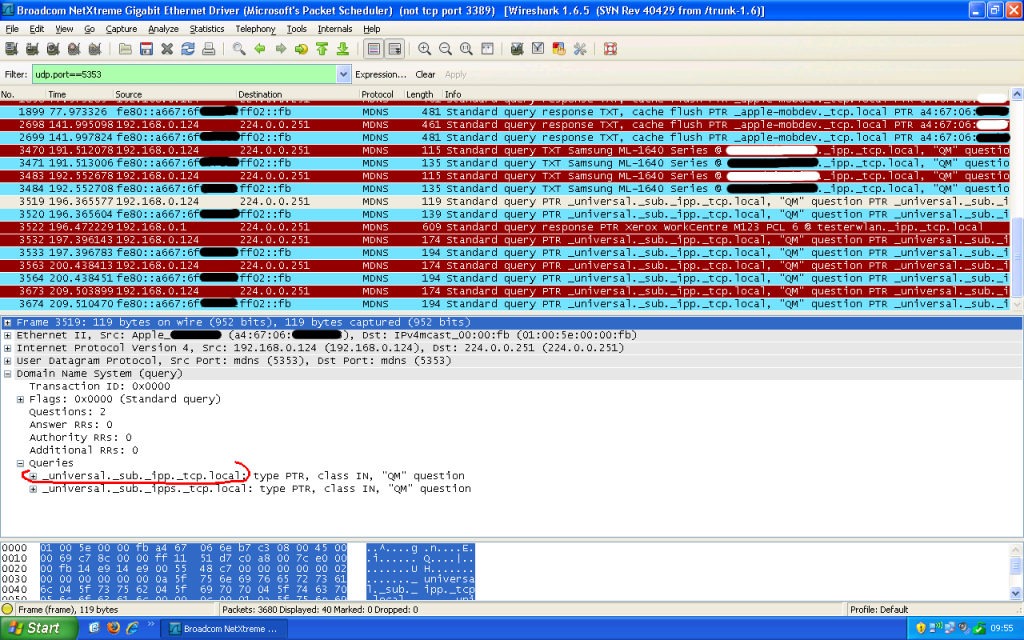 Luckily, CUPS Lite has several command line switches and it can be adapted to the change.
To make Airprint.exe compatible with iOS 5 and above, run the following commands from the command prompt:
sc.exe stop Airprint
sc.exe delete Airprint
sc.exe create AirPrint binPath= "C:\Program Files\AirPrint\airprint.exe -R _ipp._tcp,_universal -s" depend= "Bonjour Service" start= auto
sc.exe start Airprint
IMPORTANT: Remember to use the right Program Files or Program Files (x86) directory.
Since you've seen the picture and the modified entry for Airprint service, you might already have guessed that -R binds CUPS Lite to a slightly different service name (the one which my iPad was looking for). This allows the iOS 5.x devices to be able to find shared printers again.
Make sure airprint.exe is allowed through in Windows Firewall. Some tutorials will tell you to disable Windows Firewall alltogether - don't do that, it's a security risk!
Some tutorials will tell you to enable guest account for the sharing to work. Don't do that, it's a security risk. If someone accesses your network (for example cracks or guesses your WiFi key), he will be able to print anything on your printer. Use one of the user accounts on Windows instead, and when you order iOS device to print something, iOS will automatically ask you for username and password.
The above has been tested with iPhone and iPad, both running iOS 8.1.2.
PS. If you are running Linux it is still possible to use CUPS and avahi daemon to share a Linux printer to AirPrint enabled devices.
I have always updated my iDevices just after the new firmware was available, and never experienced any problems. Unfortunately, installing iOS 5 was not as smooth ride as I expected it to be.
To my surprise, iTunes has reported errors 3004 and 3200 several times, and my iPad remained stuck in DFU mode. I have quickly googled to check if none has similar issues to mine and read several posts on forums. People suggest to add a manual entry for Apple's gs.apple.com to the hosts file.
Unless you have jailbroken any of your iDevices, just be patient and keep trying every now and then - it will update at some point. If you did jailbreak any device on your computer, it is possible that the jailbreaking tools has added an entry to the system hosts file.
To check if your computer is affected:
Go to C:\Windows\system32\drivers\etc\hosts
Remove any entries regarding gs.apple.com
Once done, just keep trying to restore your iDevice every few minutes.
Hanged background process to blame?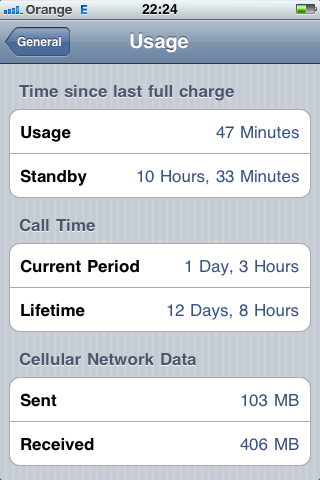 I become worried with the battery life of my iPhone over the past four days. Out of a sudden, the battery of my phone would become half-drained just after 12 hours of standby, which would indicate that the battery is dying and needs to be replaced. On the fourth day I did not connect the phone to the charger overnight, and the battery was drained completely by the following morning.
I have connected the phone to its charger and booted it. To my surprise battery life is now back to normal and the phone UI is not sluggish anymore. It seems, that there was some process running continuously in the background. iPhone 3G has no multitasking, so it had to be one of the native iOS background processes. I have not restarted nor completely discharged my phone for over half a year now, so the system uptime was quite long.
What does it mean for iPhone users?
Restart your phone now and then - memory leaks and bugs in the iOS might surface after extended uptime.
Model: iPhone 3G (2 gen.)
OS: iOS 4.2.1 (not jailbroken)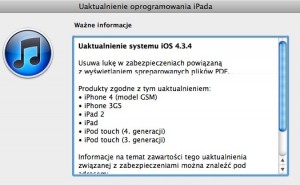 Apple has adressed the hole in PDF viewer, and an update has been released for the following devices:
iPhone 3GS
iPhone 4 (GSM)
iPod Touch 3gen
iPod Touch 4gen
iPad
iPad 2
There are no other changes in the patch description.
It is also already possible to jailbreak iOS 4.3.4 using Pwnage Tool. Details are available here.