| | | | |
| --- | --- | --- | --- |
| | new iPad | iPad 2 (last year) | iPad 2 (now) |
| 16 GB WiFi | 2099 PLN | 2049 PLN | 1699 PLN |
| 32 GB WiFi | 2499 PLN | 2469 PLN | --- |
| 64 GB WiFi | 2899 PLN | 2899 PLN | --- |
| 16 GB WiFi/3G | 2599 PLN | 2549 PLN | 2199 PLN |
| 32 GB WiFi/3G | 2999 PLN | 2979 PLN | --- |
| 64 GB WiFi/3G | 3399 PLN | 3399 PLN | --- |
All prices include 23% VAT.
Source: store.apple.com/pl and myapple.pl

EDIT: This post is about 3rd gen iPad ("The New iPad"). For information about 4th gen iPad ("iPad with Retina") please check this post.
In just three days Apple will begin selling their newest iPad in Poland. If you were looking forward to the LTE feature however, you will probably be disappointed. Fear not; the new iPad has still much better mobile baseband than it's predecessor.
Let's have a look at the details.
The new iPad baseband specs
According to the new iPad Tech Specs on apple.com, it's baseband (the 4G built in modem) is capable of using the following networks:
GSM/EDGE (850, 900, 1800, 1900 MHz)
UMTS/HSPA/HSPA+/DC-HSDPA (850, 900, 1900, 2100 MHz)
4G LTE (700, 2100 MHz)
As you can see, the new iPad can use 2G and 3G networks just like iPad 2, but there is one small detail, which makes the new iPad better: the DC-HSDPA (it's sometimes called HSPA+ DC). This is a dual carrier HSDPA network, which allows transfers of up to 42Mbit/s. This is definitely better than "normal" HSDPA, which only offers 7,2 MBit/s.
But wait, there is LTE in Poland, isn't there?
The answer is yes, there is LTE. Unfortunately right now all the carriers, who rolled out LTE network in Poland use the 1800 MHz band. This is not good for the new iPad, because it can only operate in 700MHz and 2100 MHz bands.
Polish carriers are unlikely to use either of these bands for LTE in foreseeable future, because the 2100 MHz band is currently occupied by the fast HSPA+ DC 3G networks. These networks are rather new, so the probability that any carrier swaps them with LTE soon is rather slim.
Current HSPA+ networks in Poland:
When AirPrint was first introduced in iOS 4.2, I have spent some time trying to share my Windows printer to my iPad. Of course a free solution was already there, one that involved installing Apple Bonjour Service with CUPS Lite for Windows. So I've quickly found that solution on Google and downloaded the necessary tools, namely Bonjour Print Services for Windows and Airprint.zip, which contains the CUPS service.
Making it work was quite easy. You need to unzip the Airprint.zip file to C:\Program Files\AirPrint (on a 32-bit Windows), or to C:\Program Files (x86)\Airprint on 64-bit Windows.
The next step is registering the service: log in as a user with admin rights, click "Start", "Run", enter "cmd" and press "OK".
In the console, enter the following commands:
sc.exe create AirPrint binPath= "C:\Program Files\AirPrint\airprint.exe -s" depend= "Bonjour Service" start= auto




sc.exe start AirPrint
IMPORTANT: If you use 64-bit Windows, use the appropriate Program Files (x86) directory instead.
It worked! ...until iOS 5. So I've run the Wireshark to see if Apple changed anything to the AirPrint protocol. It was not a surprise that they did: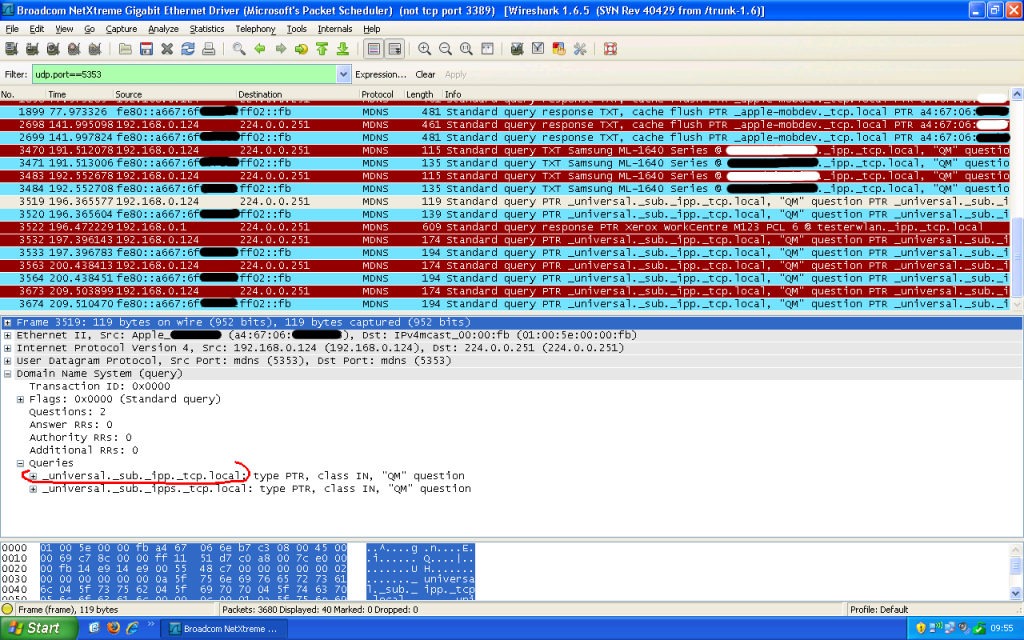 Luckily, CUPS Lite has several command line switches and it can be adapted to the change.
To make Airprint.exe compatible with iOS 5 and above, run the following commands from the command prompt:
sc.exe stop Airprint
sc.exe delete Airprint
sc.exe create AirPrint binPath= "C:\Program Files\AirPrint\airprint.exe -R _ipp._tcp,_universal -s" depend= "Bonjour Service" start= auto
sc.exe start Airprint
IMPORTANT: Remember to use the right Program Files or Program Files (x86) directory.
Since you've seen the picture and the modified entry for Airprint service, you might already have guessed that -R binds CUPS Lite to a slightly different service name (the one which my iPad was looking for). This allows the iOS 5.x devices to be able to find shared printers again.
Make sure airprint.exe is allowed through in Windows Firewall. Some tutorials will tell you to disable Windows Firewall alltogether - don't do that, it's a security risk!
Some tutorials will tell you to enable guest account for the sharing to work. Don't do that, it's a security risk. If someone accesses your network (for example cracks or guesses your WiFi key), he will be able to print anything on your printer. Use one of the user accounts on Windows instead, and when you order iOS device to print something, iOS will automatically ask you for username and password.
The above has been tested with iPhone and iPad, both running iOS 8.1.2.
PS. If you are running Linux it is still possible to use CUPS and avahi daemon to share a Linux printer to AirPrint enabled devices.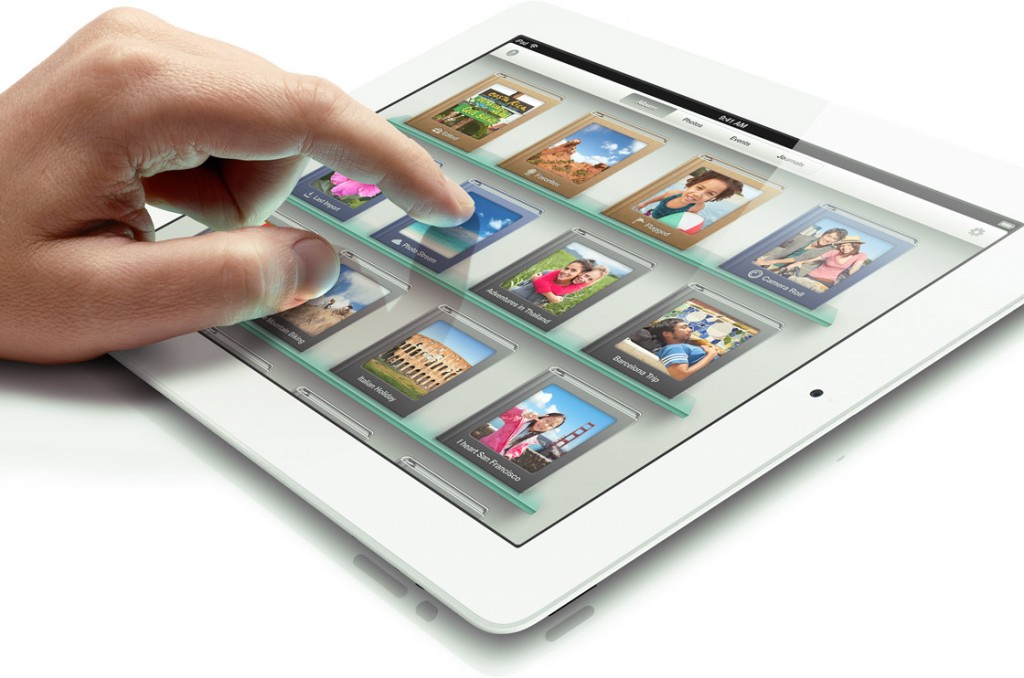 Yesterday Apple has announced a "Resolutionary" device: "The new iPad". I'm sure you have already read about the official list of features, but in case you didn't, here's a list:
2G/3G/4G (LTE) modem capable of:

HSDPA (7.2 Mbit/s)
HSUPA (7.2 Mbit/s download and 2 Mbit/s upload)
HSPA+ (21 Mbit/s)
HSPA+ DC (42 Mbit/s)
LTE (72 Mbit/s)

WiFi 802.11 a/b/g/n (2.4 GHz & 5.0 GHz)
2048 x 1536 resolution Retina display
Apple A5X SoC with 4 graphical cores
works 9 hours on battery (LTE mode) or 10 hours in WiFi mode
5MP iSight camera with five-element f/2.4 lens
Pricing didn't change and the new iPad costs just as much as the old one did. But here is one more thing: as usual, Apple has lowered the price of the now-old iPad 2. The cheapest iPad 2 (WiFi 16GB) now sells for 1699 PLN!
You can order yours on polish Apple Store.
PS. iOS 5.1 is now available both through iTunes and as Over-the-air update.
| | |
| --- | --- |
| iPad 2 16GB WiFi | 1699 PLN |
| iPad 2 16GB WiFi+3G | 2199 PLN |