A few months ago I looked at the Ore Value chart in LMeve and found out their value was something quite different from what was designed by the CCP, namely medium value ores were on the top, while the ones supposed to be the best were actually somewhere in the middle.
And then CCP Fozzie came in and rebalanced mining 🙂
In short:
CCP doubled Zydrine and Megacyte consumption in manufacturing
Devs changed the mineral content of the Null and Lowsec focused ores
Devs rebalanced the ore content of the mining anomalies generated by the Ore Prospecting Array
Ore value chart looks much healthier now: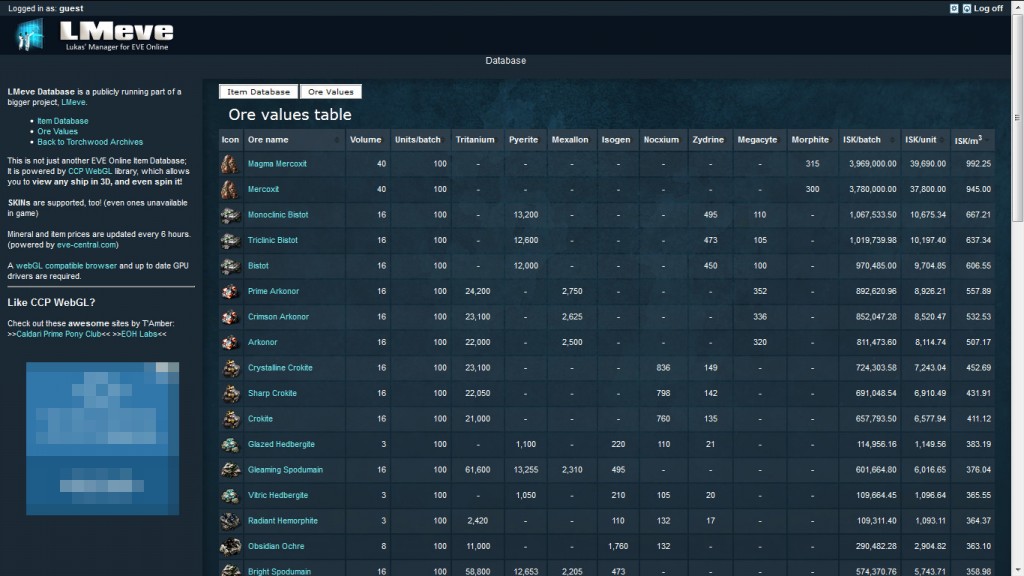 Mercoxite holds the first place, Bistot is next, with Arkonor and Crokite just behind. In short: ABC ores are again a thing!
Speaking of high sec ores, there were some changes there. The first place these days belongs to Scordite, with Omber – again – closing the table.
Can I check the value of ores myself?
Sure! If you would like to check the ore values yourself, feel free to do so using LMeve Database. Just remember to sort by the last column.
PS. If you are interested in the current shape of the New Eden economy, a friend from Aideron Robotics, Lockefox is running a weekly show, EVE Prosper Market Show which is really cool and I really recommend it!
That's it for today! Fly safe o7