Update: Aegis SDE conversion is now available: https://www.fuzzwork.co.uk/dump/
Most of the players don't realize that almost all third party apps need to be updated every time there is a new release of EVE. This is because of the Static Data - a special database made by CCP and released to the third party developers of EVE. It used to happen two to four times a year, but with the new release cadence it now happens every 5 weeks.
Usually the process is rather simple: CCP releases a MS SQL backup with the static data (plus some tables in YAML files), then Steve Ronuken (rather famous third party developer and a CSM member) combines both MS SQL and YAML files into one databse and converts it to several formats, such as MySQL (by far the most popular one), PostgreSQL and SQLite.
In Aegis release, CCP has changed one of the core tables - invTypes - from MS SQL database table to a YAML file. And unfortunately it caused some trouble:
[1:42 PM] It's just because there's data missing, due to the conversion
[1:50 PM] invGroup, invCategory data is totally missing. much of invTypes is missing
and
Forum thread about Aegis 1.0 SDE - Released
What does this mean for a regular EVE Online player? Most of the third party apps will be stuck on Carnyx static database, meaning there will be no Hecate or new missile modules there. We have to wait until CCP rectifies the situation, so Steve can convert the DB for the rest of third party devs.
Maybe it would be a good idea for CCP to consider releasing a complete database in all popular formats (or at least one), instead of data being scattered between MS SQL backup and several YAML files?
Hi #DevFleet! CCP has again published the static data dump before deploying expansion to Tranqulity. I would like to thank @Darkblad_eve here, who sent me and @FuzzySteve a heads up tweet on Twitter last night about new SDE being available. It seems CCP has a new procedure: SDE is deployed on friday immediately preceding the usual tuesday expansion deployment on Tranquility (only database is available for now, icons have not been published yet). Anyway, today I had a few spare mintues to run the conversion. Please find the results here:
You might want to get the new "Ship traits" -> Head to Fuzzy Steve's page (look for invTraits).
The original MSSQL data dump is available on the official Toolkit page.
LMeve Database updated
The item database has been updated to use the new Static Data dump as well. For example: Nestor stats are up to date now, and Deployable Structures have been move to Structures group, along with other POS and Outpost modules. When you head there, you will find all the new deployables (they will be missing icons until CCP publishes them, though).
This post is entirely for the #DevFleet out there. CCP have outdone themselves by publishing static data dump for a new expansion 4 days before actually deploying it on Tranqulity! It was already available on the Toolkit page last friday.
It means that we - the third party developers - had even more time to convert and adapt the data to our projects. Unfortunately it was not so easy to convert the data this time. As most of you know, CCP has recently switched from SQL Server 2008 to SQL Server 2012, which means the official Static Data Dump has now SQL Server's 2012 media format. To make the ride even more rough, SQL Server 2012 only runs on Windows Vista and above, and Windows Server 2008 R2 and above. In order to make my development VM compatible with the new Static Data Dump, I had to set up a clean new VM with Windows Server 2008 R2 and the new database version. Fortunately it is possible to do all that legally, because Windows Server 2008 R2 is available as a 180 day trial (which can then be rearmed twice to extend the trial even further), and you can use the Express version of SQL Server without paying a dime.
Now the results!
SQL Server -> MySQL & SQLite:
YAML -> MySQL:
I have also updated the LMeve Database to use this new dump, feel free to have a look.
Type Icons
CCP has only published a data dump, with icons and renders (probably) coming soon. Don't worry, I have prepared a "delta" Rubicon icon pack. Simply copy it on top of your existing Odyssey icons:
Icons and renders have now been updated by CCP. Go to the Toolkit page to fetch it.
Feedback
If you find any issues with these dumps, please let me know. This is the first dump from SQL Server 2012, so it is possible some things can be different either in schema or in the data itself. LMeve works just fine, but that's just me.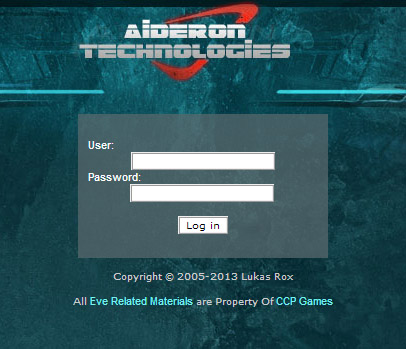 When I first started this project, I knew it will take more than a day to complete. In fact, I have assumed it will take at least a month (1-2 hours a day) to finish basic features. I was wrong: it took one and a half month. The result however, is better and more functional than the original Specification required.
First I would like to say a big thank you to my corp mates, who are testing LMeve restlessly. Beta test has also raised some excellent improvements and ideas, some of which are implemented already, and some have been added to the drawingboard. Thank you guys!
Features developed since the last post
Tasks is a module, which allows planning and tracking industry jobs over the course of one month. Currently the only person with edit rights is the CEO, so he can plan manufacturing, invention and copying for each corp member. Members can view their own task list, which shows the completion state of their tasks.
It looks almost exactly like the Task page on Marcel's aideronrobotics.com (this was one of the specified requirements). Crysis McNally, one of our members has proposed to add a tooltip over Progress and Success bars, which shows how many jobs have been already done. This way corpies know exactly how many more runs are needed to reach 100%. This is one of the features we've missed in the original aideronrobotics.com industry tool.
Database is a module mainly used for planning and reference (and since there is no "Kit Builder" yet, it also tells the amount of materials required for production). It's also the first module to display price data from eve-central.com (data itself has been downloaded for more than a month). We plan to add a drop-down ME field, which will recalculate required materials, and a setting if we want to get (or stop getting) price data from eve-central.com.
Wallet has been iterated upon, because previously it would display walletTransactions (market sales) and walletJournal (bounties, contracts, taxes, etc.) separately. Market and contracts are now merged, so we know the actual ISK flow (we are buying minerals from corp members using contracts, and the rest of materials from market).
Tips'n'Tricks for Static Data Dump and EVE API
I have already mentioned it in the first post about LMeve, that EVE API can be tricky at times. So does the Static Data Dump.
As it turns out, telling the correct amount of materials required to build an item is not an easy task, because the data is mixed together: skills and "extra materials" are in the ramtyperequirements table, so you have to tell them apart (hint: join invgroups and use categoryID = 16 to separate skills from materials).
Secondly, the invtypematerials table contains the materials you get when reprocessing the item. It should be the same amount as materials required to build an item, right? Well, it only holds true for Tech 1 items. For Tech II, you have to subtract Tech 1 base item materials from the Tech 2 materials (hint: use recycle column in ramtyperequirements table to find the base item). The weirdest thing however is, that for some items it will give the exact results (for example Improved Cloaking Device II), but for some (like Kronos) you will end up with negative values! Of course the only solution is to hide the negative values from output.
Last but not least, EVE API is having hiccups now and then, throwing 1001: cache is invalid error for wallet transactions, wallet journal and message feeds. The main functionality of LMeve does not depend on these feeds (apart from the Wallet module), but for some people, like Somerset Mahm (and his excellent Blink service) it can be quite a pain. Good luck fixing it @CCP!
Story continues
This is not a formal project, so keeping the scope from growing is not much of an issue (the only budget I have here is time), but there is still plenty of features waiting on the drawing board:
Industry Goals (similar to Tasks, but at the corp level). Ideally I would like to draw pretty production lines for Tech II and Capital items with all the intermediate products.
Inventory (Material Stocks, Buy Calculator for buying minerals from corp members)
Market (Monitoring buy/sell orders, Monitoring market prices for materials and products)
Settings (Some values are still not editable without phpMyAdmin right now)
EVE API monitoring (to gather API statistics and errors over time, currently I only keep the last value)
Linking characters to accounts using EVE API (currently admin has to link characters to account manually)
Want to help us test LMeve?
Would you like to join a friendly group of mature players and get paid for cycling corp manufacturing and invention tasks?
Well, now you have a chance! Apply to Aideron Technologies today! Simply contact our recruiter - Razeu - in game.
PS. Please specify AT in the application form, because we still share forum with Aideron Robotics.