A company known as Fishlabs has recently been busy developing yet another expansion for the critacally acclaimed game, Galaxy on Fire II (it's the closest game to EVE Online available for iOS and Android).
Galaxy on Fire II is a space-themed dogfight game and is one of the best in its genre for iOS, Mac and for Android as well. The storyline of this new installment takes place immediately after the previous expansion named Valkyrie, where our protagonist, Keith T. Maxwell has banished the evil Alice into the Void realm, with the help of several new weapons and got his own space station on the way.

The story of Supernova expansion begins with an insterstellar disaster in the Midorian sector, forcing Mido out of their space and creating new ground for a conflict with Nivelians. Mido decide to ask Maxwell to become an emissary of peace to the Nivellians to negotiate treaty and aid. Despite his valiant efforts, the situation only gets worse. Slowly Keith realizes there must be a new, hidden enemy, who tries to make matters even worse.
According to the press information, the Supernova expansion will bring about 10 hours of action, and knowing Fishlabs, this will be quality entertainment. Players can expect new missions and loads of new content such as space ships, star systems, blueprints, weapons and commodities.
Fishlabs seems to follow the example of other great game manufacturers such as CCP or Blizzard, publishing a dev-blog every two weeks, to keep the playerbase informed of the progress. Developers have announced that the game will be available for iOS in HD in third quarter of 2012.
Let's dig deeper
The expansions brings several new ships, namely a heavy battleship "Bloodstar", which according to galaxyonfire wikia sports 180 cargo space, 1 turret, 4 primary weapons, and 4 secondary weapons. There is limited information regarding other ships, apart from their names (and looks - Fishlabs has published several screenshots).
The new ships:

Gryphon
Rhino
Bloodstar
Amboss
Gator Custom
Blue Fyre
Ghost fighter
New modules:

Gamma shield - to withstand the gamma radiation after the supernova explosion
Repair laser (Large Remote Repairer I anyone?)
Leech beam (another mod from EVE: Nosferatu!)
New primary weapons:

Heavy Ordinance Turrets - turrets with heavily improved damage
Sentry Turrets - similar to sentry drones in EVE. Launch them and allow them to shoot your enemies.
Matador TS - new, manually controlled turret
M6 A4 "Raccoon" - improved version of the M6 series
Mass Driver MD 12 - improved version of the MD series

New secondary weapons:
Improvements to mining

Gas harvesting: fire a ionization missile into a gas cloud, then harvest it with a plasma harvester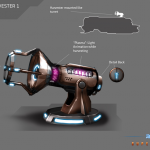 According to rumors, the expansion will become available on 31st of August, 2012.