Have you ever heard of Rixx Javix? I bet you have. Well, our famous blogger friend from Eveoganda has recently started drawing EVE Online ships in Adobe Illustrator in order to create high quality posters that you can then print out on A0 and put on your wall, so everyone knows that internet spaceships are your hobby. I really recommend you take some time, and have a look at his work here: Art Print Poster Series.
The series looks great, each ship is positioned in a way that presents it best, and is meticulously detailed, so even after printing at a very high resolution, it still looks amazing. I guessed the method Rixx used to create these (he later confirmed it on his blog), and - being inspired with his work - took my own attempt at recreating one of the most iconic ships in EVE - The Megathron - in a vector drawing. But it's not just any Megathron - it's Megathron Quafe Edition.
Rixx is using Adobe software to make his series, namely Illustrator and Photoshop. I have chosen to use open source software instead, so my poster was made with The GIMP and Inkscape. Both me and Rixx used The Amber's excellent ship viewer known as "Jeremy" at http://caldariprimeponyclub.com/ for reference.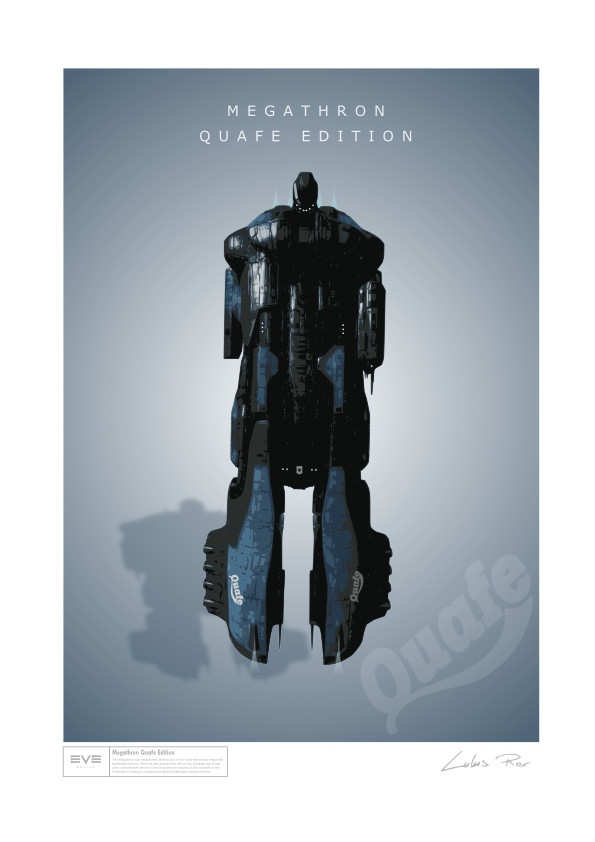 Feel free to download the vector SVG version here.