Yesterday Galaxy on Fire II, an iOS game for iPhone and iPad (which I have reviewed here), has received a paid add-on named "Valkyrie". Another new feature is ability to obtain a player owned station, where it is possible to store multiple ships (before this, player could only own one starship at a time).
The new Valkyrie add-on costs 3,99 EUR (paid as in-app purchase) and brings a new storyline centered around Valkyrie station in Herjaza system. That is of course not all, which the expansion has to offer: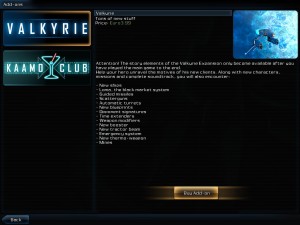 New ships
Loma, the black market system
Guided missiles
Scatterguns (AoE guns)
Automatic turrets
New blueprints
Opponent signatures
Time extenders
Weapon modifiers (similar to weapon upgrades in EVE)
New booster
New tractor beam
Emergency system
New thermo weapon
Mines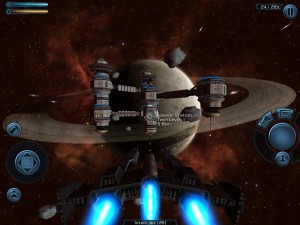 The amount of new content makes this game even closer to the single player EVE-like experience. By the way, dear CCP, when do you release EVE Online for iPad?! (or EVE offline, it could just be a game in EVE universe - money waiting to be made here)
Player owned station can be either bought in-game for 30 million credits and 50 tons of Buskat, or as an in-app purchase for a mere 0,79 EUR. The station is located in Shima system.
EDIT: I found a bug. If you don't buy the add-on, every time you undock, a character named Cornelious will contact you to offer a mission, which is not available until after you bought the expansion.