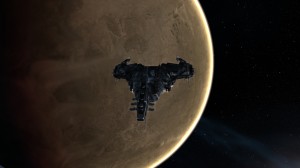 Many pilots ask in Syne Public if Scorpion is useful for Incursions. It is definitely worth a look, provided you can armor tank it with enough resists, so logis can cope with incoming DPS. Shield passive tank would increase already high signature radius, making it even more vulnerable to Tama's torpedoes.
Seven ECMs prove to be very useful in disrupting Sansha RR and limiting their firepower.
I am still trying to decide which is better: EANM II or DC II, but I think Damage Control is a better choice if something goes wrong. Also feel free to fit drones of your choice.
I have used 'Umbra' meta 4 ECMs because they're both cheaper and use less capacitor than tech II. Remote Reps are not cap-stable, designed to provide emergency support only in case Logistics fail for any reason.
[Scorpion, Incursion]
Damage Control II
Armor Kinetic Hardener II
1600mm Reinforced Rolled Tungsten Plates I
Armor Explosive Hardener II
Sensor Booster II
'Umbra' I White Noise ECM
'Umbra' I White Noise ECM
'Umbra' I White Noise ECM
'Umbra' I White Noise ECM
'Umbra' I White Noise ECM
'Umbra' I White Noise ECM
'Umbra' I White Noise ECM
Large Remote Armor Repair System II
Large Remote Armor Repair System II
'Arbalest' Assault Missile Launcher, Sabretooth Light Missile
'Arbalest' Assault Missile Launcher, Sabretooth Light Missile
'Arbalest' Assault Missile Launcher, Sabretooth Light Missile
'Arbalest' Assault Missile Launcher, Sabretooth Light Missile
Large Anti-Explosive Pump I
Large Anti-Thermic Pump I
Large Anti-EM Pump I
Armor res: 70,3 EM, 67,3 Therm, 71,3 Kin, 74,6 Exp
Armor HP: 12 086
Total EHP: 71 111