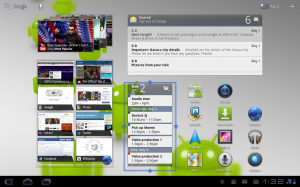 Android has recently been split into two branches: mobile and tablet. Android for mobile is the one we have known for some time now, whereas the  Honeycomb 3.0 version is the recent spin off. Users don't like it and neither does Google: Ice Cream Sandwich will be an unified system for both phons and tablets. But before that...
Android 3.1
Google has just published the SDK for Android 3.1. Additionally, Motorola XOOM 3G users can already update their slate to use this new version of Android.
What's changed?
UI is now more intuitive and more efficient to use. Animations are optimized for faster and smoother transitions.
Users can connect a broad range of USB input devices (keyboards, mice, game controllers) and digital cameras. It is possible for developers to create third party drivers for other USB devices.
Better multitasking and instant access to the Recent Apps list, which is now expandable. Users can now select from a list of recent apps vertically to see thumbnail images all of the tasks in background, then touch an image to jump back into that program.
Efficient Home screen planning. Users can now resize their Home screen widgets using drag bars delivered by the OS. Users can expand widgets both horizontally and/or vertically to include more content, where supported by each widget.

Android 3.1 adds additional Wi-Fi features.

A new high-performance Wi-Fi lock lets programs keep high-performance Wi-Fi connections even when the device screen is dimmed. Internet radio is one of many possible uses for this feature.
Proxy - it is now possible to configure a separate proxy server for each access-point. Web browser will use proxy when connecting to web sites or downloading files.

NEW: Android 4.0 Ice Cream Sandwich running on x86 PC/netbook: check this post
---
The Android x86 project has recently built Froyo images for most popular netbooks (and of course a generic image for other computers).  This means you can easily run Android on your ultra mobile computers the same you would on a mobile phone.
Supported netbooks:
ASUS laptops/tablets
ASUS EEE PC
Dell Inspiron Mini Duo
Viewsonic Viewpad 10