I have encountered a problem during an automated update of Chrome today: Microsoft Security Essentials has reported that Chrome browser contains PWS:Win32/Zbot. MSE alert causes the update to fail. Google has already responded to the problem and posted on the official Chrome blog. The solution is to update the definitions of Microsoft Security Essentials to version 1.113.672.0 or above.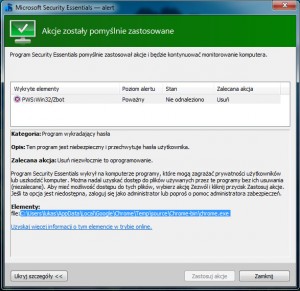 Windows Live Mesh is not a completely new product - the ability to sync files between multiple computers has been available for several years already - Microsoft offered different products to allow this very useful functionality (Windows Live Mesh Beta, Windows Live Sync and Windows Live Toolbar). The current iteration is called Windows Live Mesh and is a part of Windows Live Essentials 2011. This app is compatible with Windows Vista, Windows 7 and Windows Server 2008. The program will allow to sync multiple folders on up to 30 (thirty!) computers. You can also sync your files to SkyDrive cloud storage, which offers 5 GB of free space in the cloud (extended from previous 2GB just like Ubuntu One).
Functionality of Live Mesh is quite similar to forementined Ubuntu One, but also has some differences: in order to sync files between two computers using Ubuntu One, these files must be synced to the cloud first, whereas in Live Mesh this is only an option. Files can be synced directly between computers without the need to copy them to the cloud storage. Live Mesh also allows RDP remote access between all computers linked to a Live ID. "Remote" feautre has to be enabled first. Once you do, you will be able to remotely access your PC, even if it is behind a NAT. No port forwarding or any setup is necessary.
There is one disadvantage of Windows Live Mesh: it does not support the legacy Windows XP and Server 2003 (installer fails with "not a valid Win32 application" error).
It seems that Microsoft has learned a lesson from Google and Apple. The new Metro UI is very simplistic - just like iOS or Android. Don't get me wrong though: Windows 8 interface is very different from competitor's mobile OS. It is however based around similar concepts. The new GUI is very easy to use, either with mouse or fingers (unfortunately  I couldn't test the touch control myself, so I believe the people who did). Animations are smooth and simple, without too much bling. UI elements like buttons and text fields are large enough for touch control, which also serves another purpose: it removes clutter from applications, making them easy to use.
Overall feelings are very positive. Metro feels fresh, easy and is something new, instead of being a copy of Android or iOS. Metro has already been available on Windows Phone for some time, but I think it will do fine not only on mobile devices: Metro looks just as good on a Full HD TV!
PS. Metro requires at least 1024 x 768 resolution.
---
Information below is true for earlier Windows 8 Developer Preview
Last weekend I have installed the Windows Developer Preview 32-bit on my Acer Aspire One netbook.
Before I could install Win 8 on my Aspire One I had to replace the tiny and slow 8 GB SSD drive with a 60 gigs HDD from an old media player. I have then restored my Ubuntu from a ghost4linux backup onto the new drive. Then, booting from an Ubuntu live CD I have used GParted to resize the linux partition, and then created another empty ntfs partition in preparation for Windows 8.
Installation went smoothly and without any issues. Windows Installer has matured over they years and the amount of information requested from user is minimal. I could not tell any difference from Windows 7 installer, so I assume this is one and the same. Please mind that this Developer Preview does not run on VMware, and that the Windows 7 bootloader will not boot Windows 8. It is however possible the other way around. Linux GRUB can also be used for multiboot purposes.
Notes:
When you click "Start", Metro UI shows up (it's the one from Windows Phone 7 and Windows Media Center),
Metro Apps require at least 1024 x 768 resolution. Metro Apps will not start on a 1024 x 600 netbook!
Windows 8 can use cloud authentication - you can use your Live ID to log on to the system,
Developer Preview is unstable enough to let you see the new BSOD with the large ":(" symbol,
System takes about 9 gigabytes on the hard drive after installation.
All hardware is supported out of the box. The only driver I had to install was for Intel GMA945 (I have used driver package for 32-bit Windows 7)
The new OS runs quite smoothly on my netbook. This is how it looks on an Acer Aspire One:
PS. Unfortunately EVE Online requires SM 3.0 card now, so I couldn't test how it runs on this hardware. The game did start, but just after going fullscreen it dropped back to the desktop with the "Shader Model 3.0 required" message.
---
Information below is true for earlier Windows 8 Developer Preview
If you have just downloaded the Windows 8 Developer Preview, which is available in 32 and 64 bit flavours from microsoft.com website, you might have run into trouble running it on VMware products. I was unable to boot the installer on both VMware Player and VMware Server 2.0.2, each try ended with HAL_INITIALIZATION_FAILED error on the new, pretty BSOD.
Users report that the same problem happens on MS Virtual PC 2007. It is possible to run Windows 8 on the current version of Oracle VirtualBox 4.0.12. I have managed to installl the 32-bit Developer Preview without any issues with the following settings:
OS: Other/Other Unknown
RAM: 2048MB
CPU: 2 Cores, VTX enabled
HDD: 24GB