In November 2013 CCP has allowed high sec NPC Customs Offices owned by Interbus to be destroyed and then replaced with player owned ones. Previously only low-sec Customs Offices were vulnerable. Of course having POCOs makes a very nice passive source of ISK (you don't have to do anything, apart from an occassional call to arms to defend them). But have you ever wondered how much you earn through your POCO network or who is using them?
In a previous update of LMeve I have added the ability to visualize which POCOs earn the most ISK, and in this iteration I continue the trend to show even more details. You can now choose a specific POCO and see a Details page for it. This page shows how much this specific Customs Office earned in the last 30 days – counting between 30 days ago and today, income in the last calendar month, and in the current one, so you can see trends).
What's another new thing is the list of your customers. Corp Wallet Journal entries for planetary taxes show the client's name and planets ID, so by running an aggregate query on that you can see:
who is using a specific POCO
how often they use it
how much they pay in taxes (so you can approach them and offer a discount in exchange for let's say blue status)
Note: due to this information being obtained from corp Wallet Journal, it won't show characters who have 0% tax rate, as these people will only pay the NPC tax, and no taxes to your corp at all (so no records are added to corporation Wallet Journal).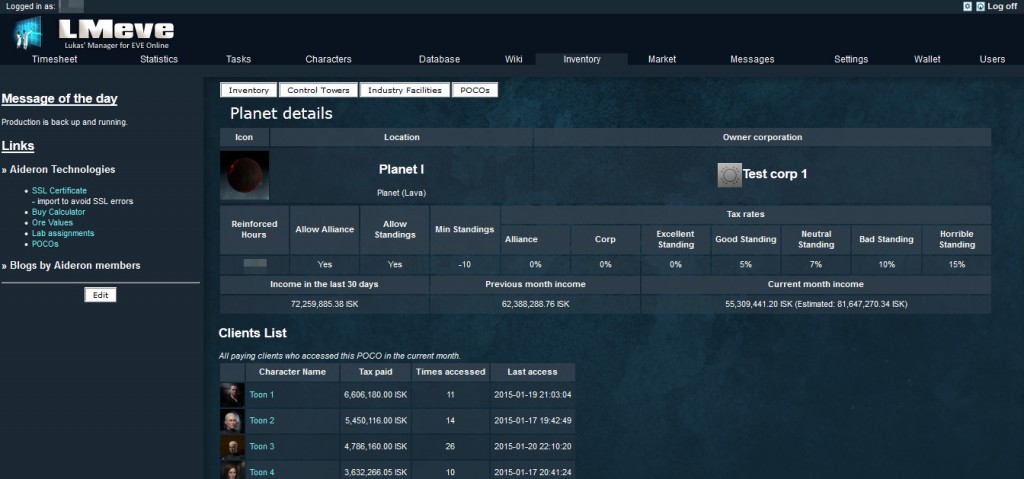 If you have ideas for more features in LMeve, please feel free to contact me. The best way is to raise an Issue on project's Github page: https://github.com/roxlukas/lmeve. Choose an appropriate category (bug fix, enhacement or question) and write down what you need, or what needs fixing. I can't guarantee that all requests will result in that feature being added to LMeve, but if the feature looks useful, won't take forever to code and most importantly, the information required to make it is in the EVE API, it has a high chance of being included in one of the future releases.
Tweetfleet Slack
Just one more thing. Ashterothi, ex-member of Aideron Robotics and well-known host of podcasts such as High Drag and Hydrostatic Podcast, has recently created a Slack team for Tweetfleet. Slack is generally a communications platform aimed at companies, but it has a very nice real time chat (plus a dedicated app for iOS & Android). It is very useful, and a dedicated #devfleet channel also exists, so feel free to drop by and chat with fellow players, CCP devs and third party devs. It's really fun!
To get invited, simply head to https://www.aideronrobotics.com/tweetfleet/ and fill in the form.
Tweetfleet Slack itself is here: https://tweetfleet.slack.com/